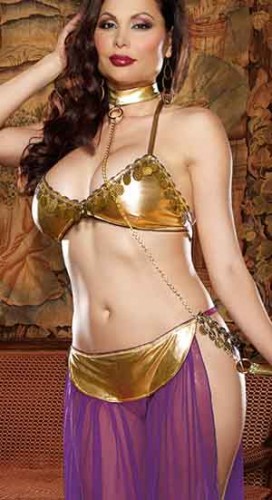 FREE UK SHIPPING
We dispatch all our products to UK customers within 5 days with FREE UK postage and packing. If you would like your products to be dispatched within 24 hours of your order there is an additional cost of £7.99, added to each product. You can easily choose your dispatch preferences when you are checking out.
"Harem Slave" Dress-Up Plus
Email to a Friend
Quick Overview
Harem Slave Plus Size Bedroom Costume Gold lame halter bra with gold coin trim and adjustable back ties; matching thong with attached long mesh skirt with open sides and coin trim detail. Matching neck collar with chain leash included.
Availability: In stock
SKU: LPP9320X
1211 views