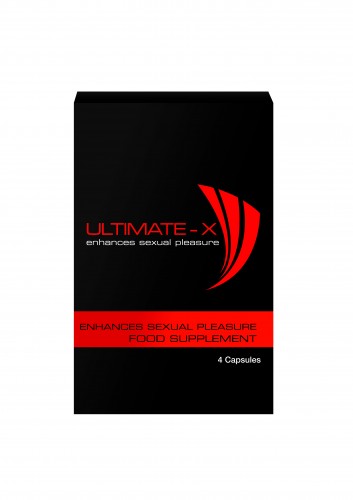 FREE UK SHIPPING
We dispatch all our products to UK customers within 5 days with FREE UK postage and packing. If you would like your products to be dispatched within 24 hours of your order there is an additional cost of £7.99, added to each product. You can easily choose your dispatch preferences when you are checking out.
Ultimate – X (4 Pack)
Email to a Friend
Quick Overview
The ultimate in herbal sexual enhancement for men. Don't let stress, anxiety or alcohol cause your performance to slip. Ultimate X is a specially formulated herbal compound that can maximise your virility, giving you a sexual edge by providing rapid, full erections to the best of their potential. Ultimate X works in just 45 minutes and strengthens your erection for more sensation and a better feeling orgasm.
Get harder in 45 minutes
Maximise your erection potential
Occasional or every day use
Uses natural ingredients
Ultimate X is a purely herbal formulation designed to invigorate the male anatomy, providing men with more energy and increased libido and should be taken prior to sex for maximum benefits. Formulated to enhance libido, Ultimate X uses learning derived from traditional herbal medicine in order to boost male sex drive, taking a combination of predominantly Asian herbs – such as Ginseng and Jujube Fruit – and combining them in a potent natural formulation.
Availability: In stock
SKU: LPPUXB-4
739 views