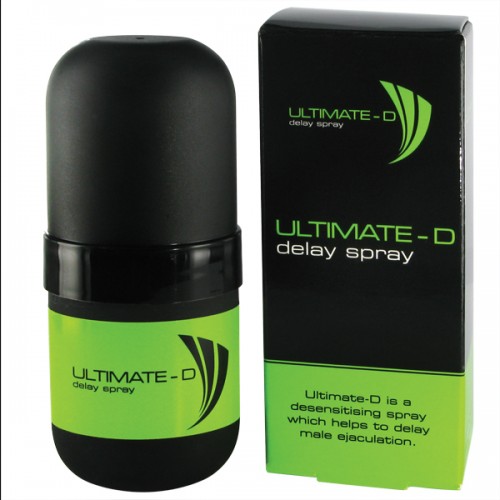 FREE UK SHIPPING
We dispatch all our products to UK customers within 5 days with FREE UK postage and packing. If you would like your products to be dispatched within 24 hours of your order there is an additional cost of £7.99, added to each product. You can easily choose your dispatch preferences when you are checking out.
Ultimate – D Delay Spray
Email to a Friend
Quick Overview
Male desensitising spray helps to delay ejaculation and prolong erections. Ultimate Delay Spray is a Lidocaine-free desensitising spray that has been designed to help men with premature ejaculation problems by reducing sensitivity in the penis, enabling men to enjoy sex for longer. Far quicker than other alternatives, with Ultimate Delay Spray you can boost your sexual prowess in an instant and impress your lover without resorting to pills or potentially painful apparatus.
Male desensitising spray
Last longer during sex
Instant results
Clean and easy application
Ultimate Delay Spray is a rapid acting numbing spray that helps to fight against premature ejaculation. Designed to reduce penis sensitivity, this fact-acting spray can be applied to the shaft and tip of the penis prior to intimacy. Once absorbed into the skin, the area feels less sensitive therefore reducing the likelihood of a premature male climax.
Ultimate Delay Spray absorbs rapidly and as it is contained within a convenient spray it reduces mess and ensures that the liquid goes exactly where you want it. This means you don't risk numbing your fingers when applying Ultimate Delay Spray.
Another advantage with Ultimate Delay Spray is that it gives you a thin layer of active ingredient spread out across the penis. This means that the liquid can absorb quickly and doesn't leave clumps behind – making Ultimate Delay Spray one of the quickest and most effective delay products on the market.
Ultimate Delay Spray has been formulated so that its desensitising formula allows for slight sensation, which means both lovers can enjoy the experience. One application can last for up to 30 minutes.
Availability: In stock
SKU: LPPUDSPRAY
931 views